Background
SAEGUSA & Partners (formerly Saegusa International Patent Office) was founded in 1946 by Mr. Hachiro Saegusa (1908-1975). Located in Osaka, Japan's second-largest industrial and commercial city, SAEGUSA is one of the nation's leading patent firms. In 2021, the firm marked its 75th year in business.

In 1975, patent attorney Mr. Eiji Saegusa, took over as President. In 2015, patent attorney Mr. Masahito Hayashi was appointed President, and Mr. Saegusa assumed the role of Executive Advisor.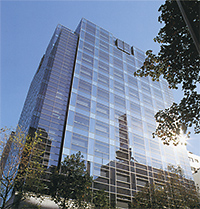 Each of our presidents has been a patent attorney with expertise in chemistry. As this demonstrates, our greatest field of strength is in chemistry, and we have assisted numerous chemical-related companies with their patent applications and cases.

Since the firm was founded, SAEGUSA's patent attorneys have specialized in the technical fields of organic and inorganic chemistry, biotechnology, pharmaceuticals, foods, cosmetics, machinery, and electronics, as well as in design, and all forms of legal work in regard to trademarks and intellectual property rights. In cooperation with attorneys in more than 100 countries abroad, and with clients listed among the leading companies and research institutes both in Japan and around the world, SAEGUSA is an international patent firm with expertise in handling applications, rights acquisition, rights utilization, and rights disputes. To maintain its high level of professional service, SAEGUSA encourages its attorneys, technical specialists, and other legal staff to place a high priority on continually acquiring new skills and knowledge.