[January 2020]Saegusa Attorney Received Top Ranking in Legal Directory
2020.02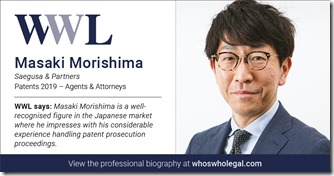 It is our great pleasure to announce that the internationally renowned legal directory Who's Who Legal (WWL) has ranked patent department partner Mr. Masaki Morishima its No. 1 Japanese patent attorney.
Previously, the highly competitive WWL directory named Masaki one of its eleven leading Japanese patent attorneys for 2019, where he was described as "a well-recognized figure in the Japanese market where he impresses with his considerable experience handling patent prosecution proceedings." This is the first time that Masaki has been ranked No. 1 in the directory.
Since 1996, WWL has identified the world's leading legal practitioners in multiple areas of business law, including IP law, based on peer review and client feedback. The criteria for inclusion in their directory is extremely strict.
On behalf of everyone at Saegusa & Partners, we wish to extend our warmest congratulations to Masaki for his achievement.